Here is another masterpiece I found from Linda Raschke's articles.
I would only list out the key points which I have found to be useful for me to write my trading business plan.
Here is a list of some of the types of things you can include in your annual business plan. The list will give you something to work on. Start thinking about putting together a professional program, comprised of bite-size pieces.
Tips for Writing A Business Plan For Traders
What methodology or patterns are you going to trade?
It is OK to have a "library" of setups, but most people do best concentrating on a niche or particular technique. Learn to do one thing consistently well instead of trying to master too
many styles.
Which markets are you going to trade?
If you trade equities, think about keeping a "stable" of stocks to follow. Don't get caught up in scanning a database of too many issues that you are not familiar with. It invites unfortunate
situations where there may be pending issues or reports in the company that you are unaware of.
If you have not had much success trading soybeans or silver in the past, why try to continue to trade them in the future?
How much capital are you going to put into your trading accounts?
Something I have to add here, stay away from looking at percentage returns when evaluating performance statistics, such as percent return or drawdowns, on your personal account.
Concentrate instead of dollar amounts.
What is your dollar amount tolerance? My stomach turns at a specific dollar amount drawdown. Percentages vary too much according to how much money you keep in your account.
You might have a net worth of 1 million. Keeping 100,000 in your trading account and your situation will be entirely different than a person who has 5 million and keeps 100,000 in the trading account.
The person with the higher net worth will feel freer to use a different type of leverage. So think in terms of dollar amounts…how much are you willing to draw
down to?
How do you plan to enter, exit, and manage trades?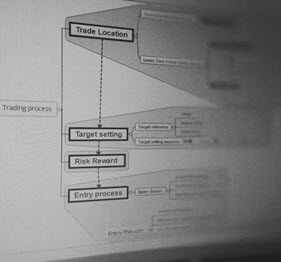 I like dividing my contract size into two units. Sometimes I go all in and then scale out in halves. Other times I put half on and look to add the other half. Some positions I keep half on as a core
and use the other unit as a scalping unit.
Whatever style you choose, it should be written down into your plan.
What is your plan to manage drawdowns?
You will have drawdowns. It is unavoidable. What is your plan to manage them? How will you evaluate when you need to take time off? Put down the plan in the business plan now.
What are your monthly goals?
Are you going to strive to make a certain number of trades each week or perhaps a certain number of SP points? Remember, these are guidelines by which to measure your progress.
Some months will be better than in other months. The end of the month is a good time to do a periodic review. Most businesses do this on a monthly or quarterly basis.
Include a daily routine in your overall business plan.
How are you going to evaluate your performance each day? Keep a notebook of the things you do RIGHT.
Pat yourself on the back for small moral victories, such as exiting a losing position swiftly. Note the small incremental improvements you make.
Create an office environment designed to facilitate performance.
Eliminate distractions and outside influences. Reduce glare and get a comfortable chair. Invest in good equipment. Invest in an excellent data feed.
A contigency plan for interuption from non-trading events
Include a provision that will keep you from trading if outside circumstances create unusual stress, such as health, divorce, or a major move.
You might as well just write a check out of your trading account and kiss it goodbye. This is a hard thing to recognize before it is too late. People LOSE money during times of 10 major stresses: death, taxes, divorce, moving, health…you get the point.
If a tennis player severely sprains his ankle, he cancels the match. Why do damage to your ratings? Why mar your statistical record with sub-optimal performance?
Record Keeping. Keep a record like your life depends on it
Rate yourself on your routine and structure and nightly homework. Do you do research or have a way of logging results? What type of research is included in your program or plan?
My problem is I stack too many projects up on back burner. I need to streamline this area for myself. Or, I get diverted doing research, go off on a tangent late at night and stay up way too
late. Then I am not in optimal condition the next day. My business plan includes bedtime. I promise myself to adhere to it.
Rewards! All work, no play makes Jack a dull boy.
You must have outside interests or hobbies to get your mind off the markets at the end of the day. You must treat yourself to something you really want.
If you spend money on yourself you will eliminate subconscious poverty thoughts. I am serious. Treat yourself like a million bucks and you will be worth it soon.
Maybe after a good week, you treat yourself to a massage or buy something you want. I already have something in mind that I will do for myself if I meet my goals next year. It is something that does not cost too much but that I could never justify spending money on because it might seem frivolous. But the money comes from my trading account so nothing is frivolous!
What plans do you have to continually improve yourself?
See yourself as a top-notch person, health-wise, performance-wise, and attitude-wise.
How do you keep advancing in life? You know the old saying, if you are not going forward, you are going backward. Educational pursuits such as books and study courses are important but don't neglect spiritual pursuit, or outside projects…perhaps building your website, starting your trading network, writing your book on all the trails and tribulations of the business, or working with a charity.
Writing A Business Plan – Final Words
I do not need to emphasize the importance of having a business plan. This post is not a step-by-step guide on writing a business plan. The goal is to give you the key elements to include in your plan.
Trading is a long journey. It is not going to be easy. Having a plan to guide your through the ups and downs will certainly help.
I hope this post is useful to you.
Do you have any questions or comments? Feel free to drop me a line in the comment section. I am happy to help.