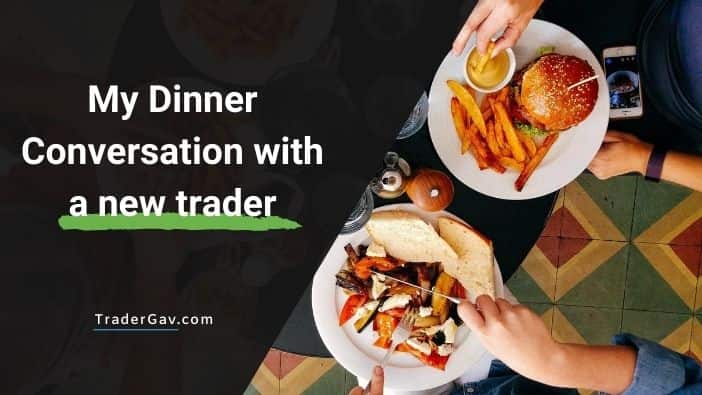 I do not normally discuss or talk about my trading outside cyberspace. The longer I traded, the more I feel uncomfortable talking about it. Maybe, I am just being lazy to explain 'what is currency trading…bla bla bla' or maybe I am just a person who is really bad in explaining thing clearly 🙂
Conversation with a new trader
I was having a great dinner at my friend's place. I still miss the delicious roasted turkey, baked rice, sweet potatoes, etc 🙂 One young gentleman from India mentioned that he is interested in learning Forex trading and consider taking some expensive trading courses. He saw his friends playing with Fibonacci lines, indicators, etc (wow, he knows these terms..) which is accurate 80% of the time. I kept quiet. I really did not want to get into the discussion. However, one of my friends who knows I am trading actively pointed him to me. Oh well…
In the hindsight, probably I was not too friendly to him. My 'advice' to him was:
"Yes, I am trading currency actively. However, I do not teach. The risk of this business is too high, so I do not encourage young people to go into that. I am in this business long enough to tell you that. 90% of retail traders failed. I am a little lucky to manage to earn some small money. But, seriously, I really don't encourage"
Looking at his face…I know my words are not encouraging. 'Go and try demo accounts, make sure you are able to make some money there, then only start thinking about forex trading'
What kind of advice is this? I had just given a cold blanket to a young trader wannabe. My bad.
I am not sure if I did the right thing. He might probably go for some expensive trading courses and start with his friend's 80% accuracy system. That's not my problem. He might even think I am being arrogant by not sharing anything with him. At least, I did not commit a sin that by telling him, 'forex is a wonderful 24-hour market, where you can make money anytime, anywhere you want'.
Well…I think I did the right thing after all.
The lesson here? Don't ask Gav out for dinner and talk about trading.
This blog post was first written back in June 8, 2009. I review it and repost it again as I thought it might be useful to new traders.
If you really keen to learn trading, check out my posts in the Back to Basics of Trading series.