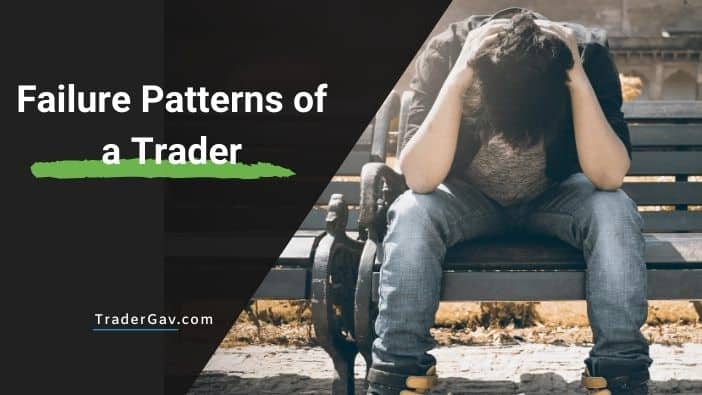 I was reading some trading articles, at the same time, review my past performance. What I am trying to do is identifying some fatal patterns that caused my losses, the failure patterns of a trader. Why?
I am not referring to chart patterns, but the patterns of traders' behaviors. When I first started trading, I was told to observe the behavior of winning traders, and learn from them. I can't agree more with this idea.
That's why I would encourage new traders to start reading books like Market Wizards: Interviews with Top Traders
and The New Market Wizards: Conversations with America's Top Traders (A Marketplace Book)
.
It is important that you want to learn what winning traders do. However, I think it is important to observe the behaviors that cause the majority to fail. Here are some patterns that I have observed from myself and some traders that I know. Of course, there are still a lot of them, I am listing 4 failure patterns that I have experienced.
4 Failure Patterns of a trader
Laziness
We like shortcuts. Instead of working on studying the markets, understand the mechanisms of trading, we focus on looking for answers.
We want something that can give us a signal to "buy" a "good stock" and waiting to collect profit as soon as possible. We do not accept the fact that it takes a great deal of effort and time to have a feel of the market we are trading, such as observing the changes of volatility, reversal patterns, to test our strategies, and to prepare our own trading plan, etc. But, "good news" is, most traders will realize this problem when have enough losing trades, and get really beaten by the market. In trading, the lesson is always learned when confidence and money are no longer with us.
Lack of focus
We know and believe there are opportunities to make good money from trading.
We jump from stocks to futures and then options or even spot forex. Wow! Isn't it cool? And , I guess you know, I have met more failed "multi-markets" players than others. All right, I was one of them (Other than Options, I have traded stocks, futures, warrant, CFD, and spot forex).
I am not saying it is not possible to play different markets or instruments concurrently, but, that's not for everybody. There is a lot more to learn from one instrument, for example, futures trading.
I see stocks trading and futures trading are like playing tennis and table tennis (Ping-Pong, if you are from Asia). The rules are similar, the ways of playing are also similar, but the strength, the speed, and, the playground are totally different. Don't expect a table tennis player to do well in tennis without much training.
Even though you have finally chosen futures trading as your play ground, stop jumping around from mini-sized Dow to Soy Bean then E-mini S&P then Euro futures and finally Pork belly.
Yes, I know there are traders trading a basket of futures, but, maybe that's not for you, yet.
Focus on E-mini S&P, for example. How well is your system/strategy on this market? Is the tic size and volatility too big for you? Think. If not, go lose some money, then you understand what I am trying to say. If I can't be consistently profitable in one market, do I expect to do well in trading basket futures at the same time?
Overconfident
First of all, I know traders experienced a lack of confidence as well, but I see more traders overestimate themselves.
I had a winning streak of being profitable every trading day for around a month when I started trading futures. Man, I thought I should be included in The New Newmarket wizard! LOL.
I did not know about the trading plan, risk management, etc. I just simply jumped into the market, and get a couple of hundreds home every day. I was just lucky. Until I faced consecutive weeks of drawdown or staying flat, I know, I need to start from scratch work on planning, testing, etc..
Overconfidence will cause lack of confidence once you are beaten.
Taking losses blindly
I am always puzzled when people tell me it is ok to lose money in the market.
Yes, we have the accept the fact that every trader will have losses even drawdown during the life of trading. But do you really learn from your losses? or just simply think that losses are part and parcel of trading?
You dumb. Losses are NOT ok if it is not part of your trading plan. You do not have a plan to execute, then how can a loss become part of your trading?
"I take loss because my setup failed to perform or the chart pattern I was looking failed to continue forming."
"I take loss because I have receive margin call from my broker or I finally "can not take it" anymore."
See the difference?
Seriously, losses are definitely NOT ok. Think, why did you lose? Stop telling yourself to accept losses blindly. There must be a reason you give away your money.
The moment I start observing failure patterns of trader, that's the moment I identify my own problem and try to solve it.
Just another piece of random rant from Gav.
If you are interested in learning more about trading, make sure to check out my Back to Basics of Trading series.